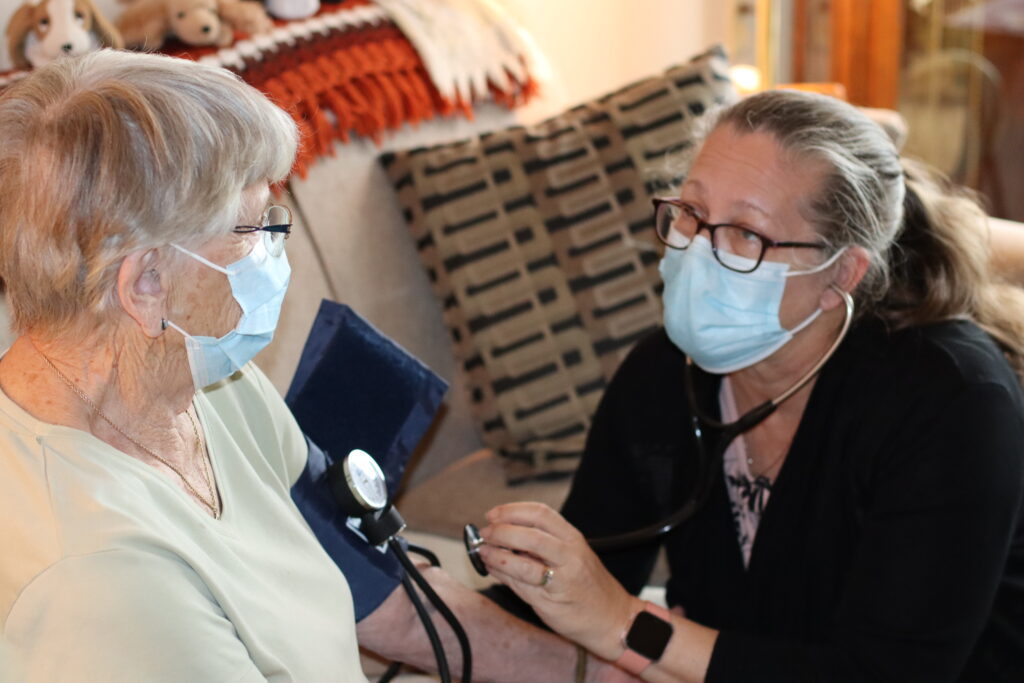 On-site Medical Staff – Registered Nurse
Shorewood offers expert care for our assisted living and dementia care residents. Comfort Health, Shorewood's licensed care provider, provides personal care for residents at the push of the emergency alert pendant. Home health aides and nurse techs are available around-the-clock and a registered nurse is available during business hours as well as on-call ofter hours.
Resident Assessments: Each resident is assessed for their medical and care needs before they move-in. Assessments are also completed annually, quarterly, after an injury, serious illness or hospitialization.

Resident Care Plans: Residents will have an ongoing care plan developed and updated by a registered nurse. This plan will be shared with designated family members.

Monitor Medications and Care: Our medical staff will assist with coordinating each assisted living resident's health care and provide medication management.
On-site Medical Staff
Comfort Health, Shorewood's licensed care provider, has home health aides on-staff 24-hours a day to provide personal care for our assisted living and dementia care residents. Our on-site home care services for our residents may include:
Incontinence and catheter management

Medication administration and management

Resident transfer and ambulation

Escorts to activities in the building

Diabetes and injection management
The above list is not all-inclusive – each resident may have different services included with their senior care plan, personalized to their needs.
The Reflections dementia care program at Shorewood has specialized care and services to those with Alzheimer's disease, dementia or other memory impairments. Our home health aides and staff at Shorewood in Rochester are dedicated to providing our residents with exceptional care for their specific needs for the best quality of life.
Physical Therapy
At Shorewood Senior Campus, advanced physical therapy services are available on-site to provide rehabilitation for all of our residents.
Physician Partners
Our physician partners offer medical advice and services to ensure our residents receive the best possible medical care at Shorewood in Rochester.
Hospice
Shorewood staff works with third-party Medicare Certified Hospice as well as palliative care.
At Shorewood, you have chosen a wonderful place to call home for the next chapter of your life. Part of living the best quality of life includes staying active and independent. As you age, new functional or health concerns may arise, challenging your ability to perform daily tasks or activities. Aegis Therapies offers physical therapy, occupational therapy, and speech therapy to provide support at every stage of your life.